On Wednesday, during his final speech at the State Department, Secretary of State John Kerry defended the United States' decision to allow for the United Nations Security Council resolution which makes Israeli settlements illegal. Abstaining from the vote, the United States allowed the measure to pass. The council voted in favor of the motion, 14-0.
The controversial resolution, which serves as a direct assault on Israel during the decades-long Israeli-Palestinian conflict, orders Israel to "immediately and completely cease all settlement activities in the occupied Palestinian territory, including East Jerusalem," and states that the establishment of Israeli settlements has "no legal validity and constitutes a flagrant violation under international law." It also "underlined that it would not recognize any changes to the June 4, 1967 lines, including with regard to Jerusalem, other than those agreed by the two sides through negotiations."
During his speech, Kerry outlined his plan for "Middle East peace" and explained the U.S. decision to abstain from the resolution, arguing that Israeli settlements in East Jerusalem and the West Bank are in violation of international law. The U.S. abstention on the resolution has further worsened the relationship between President Obama and Israel's Prime Minister, Benjamin Netanyahu.
Kerry said the U.S. could not "in good conscience" block a resolution because "both sides must act now to preserve the possibility of peace."
In defense of the resolution, Kerry said a two-state solution remains the only way to a "just and lasting peace," and he warned "that future is now in jeopardy" without a two-state solution. Further attacking Israel, Kerry added, "Israel can either be Jewish or democratic. It cannot be both, and it won't ever really be at peace."
Netanyahu is highly critical of the U.S. abstention and resolution, calling it  an "ambush," accusing the U.S. of colluding against Israel. He has also vowed to not uphold the "despicable anti-Israeli resolution."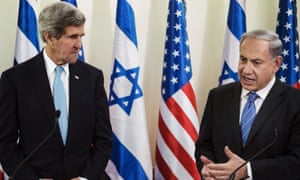 "Israel categorically rejects the despicable anti-Israeli resolution at the UN, and will not adhere to it," the Prime Minister's Office said in a statement. "While the Security Council does nothing to prevent the massacre of half a million people in Syria, it is shamefully singling out Israel — the only democracy in the Middle East. The Obama administration not only failed to defend Israel from this harassment at the UN, it cooperated with it behind the scenes," said the Prime Minister's Office.
Despite the hard blow to Israel's security, Netanyahu said he is hopeful that a Presidency under Donald Trump will help undo the resolution.
Israel is "looking forward to working with President-elect Trump and with our friends in Congress, both Republicans and Democrats, to undo the damage of this absurd resolution," said Netanyahu's Office.