Pakistan is a dangerous place to be a woman. It is a place where women are abused and murdered in honor killings by their husbands and relatives as a form of punishment for supposed adultery unlawful sexual behavior.
A woman in Pakistan was gunned down by her brother on Thursday after he discovered that she was talking to another man. Hussain Gopang, the brother of the woman, was arrested for the honor killing which he confessed to committing.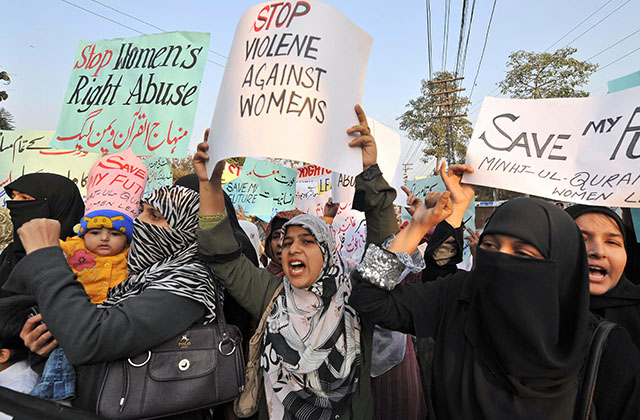 Over 1,000 women are killed in honor killings each year in Pakistan, according to the Aurat Foundation, a Pakistani human rights group.
Under Shariah law there is no penalty for a parent who kills their child. Most of the honor killings that take place in the world are carried out by Muslims.
"Brother kills sister for 'honour' in Khairpur"
THE EXPRESS TRIBUNE, December 29, 2016
A woman was allegedly gunned down by her step-brother on the pretext of karo-kari in Loung Gopang village, Khairpur district.

The accused, Ghulam Hussain Gopang, suspected that his sister, Mai Jarul, was having illicit relations with another man. On Thursday, he barged into her house, opened fire at her and fled. The body was shifted to a taluka hospital in Kot Diji.

Kot Diji SHO Ali Asghar Almani said that the police have recovered the gun used in the murder but the accused is still on the run. A Kot Diji-based journalist said that the deceased had seven children; two from her first husband and five from the second. He added that Ghulam was Mai's step-brother.